No, not her boobs.
Kittens.

We let Joongie go yesterday so I grabbed two more shots of her and there's a bunch here of the last remaining two. There's a SHITLOAD of my baby Yunho in here. A few of the dog, too.

Oh and BTW, my next entry is going to be a long and bitchy one. And for one of you, it may be the last thing you remember of me, depending on how bitter you are after you know the truth about what I really think of you sometimes. You probably won't even see it coming.

BUT FOR NOW, PICTURES:




Close up on the Joongie in the car.



Tom holding the kitty outside Walmart while we waited for her new mom to show up.



The pooch from above. Note the trippy kitchen flooring.



Up close and personal.



He's not that bad, really. Just sometimes I wish I could wake up without him in my bed making my eyes itch like nuts.



Just doing dog things.



The mom cat chilling in the closet.



Jae and Yunho invading the computer chair.



Closer shot fo the kitten invasion.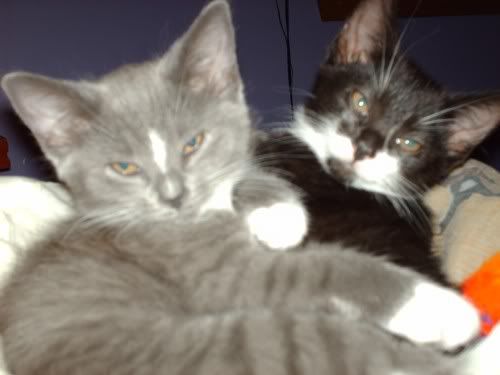 After being moved from the chair so mom could sit in it.



This is so funny. I love when kittens fall asleep with each other.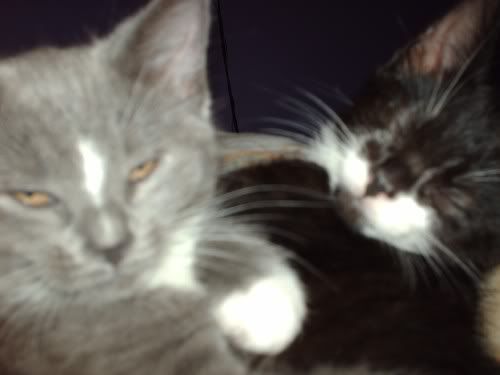 Yunho's out again.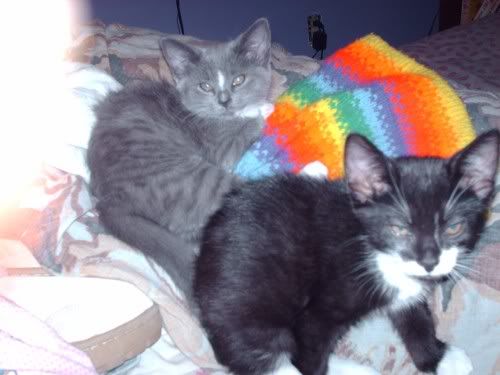 Yunho looks pissed... probably because we wouldn't let him sleep.



Yunho was just chilling in my lap and I decided to snap a few pictures of him. The red in the back is my skirt.



Wonnie showed up and started some shit.



A fight broke out.



Did I mention Yunho is a killer?



Yunho won...



...and then decided to chew on me a while...



...before moving on to his own foot.



Some time later, he came back for round two of Yunho VS Liz's fingers.



Wondering why the hell I'm still just taking pictures.



Just chilling for a really cute shot.



And some more killing.


And to answer everyone's question, which is probably something like "If you hate Yunho so much, why do you have a cat named that?"... We named them as they came out... We never intended to keep ANY of them... Yunho just happens to be the only one without a home lined up.