Yes, it is that time again. Time to pimp. A while back
shintotchi made a LJ community that I joined and... didn't help much in... and they don't have many members so here's the pimping: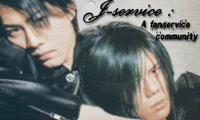 j_service

She lets me post Korean stuff, too so... I just posted a bunch of random kpop clips, all "service" related. SO JOIN IT AND HELP HER OUT!